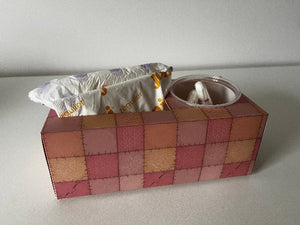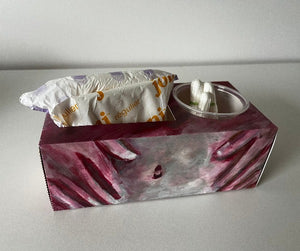 Just Like Toilet Paper
We believe every washroom should provide period products.
Inclusive, accessible, free.
We can help you do it, #justliketoiletpaper.
Changing The Flow is dedicated to the achievement of menstrual equity and the elimination of stigma surrounding periods.
We do this through awareness, education, and implementation.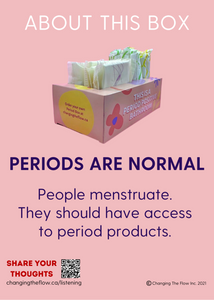 Services for your organization
Whether you are researching menstrual equity for the first time or you have been at it for a long time, we can help you.
Providing period products in washrooms, while simple in concept, can present challenges for organizations of all sizes.
If you are here, you recognize the importance of menstrual equity. Let us help you move from thought to action.
Browse some of our offerings here or book a free 30 minute meeting to find out how we can help you.
Book a meeting
Blog Posts
---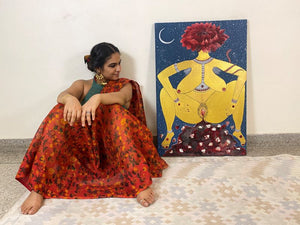 To celebrate the beauty of nudity and the sacred feminine power, she often uses her menstrual fluid in her art works.
SEEKING RESEARCH PARTICIPANTS Changing the Flow is seeking previously incarcerated menstruating individuals to participate in a study about menstruation experiences within the Canadian prison system
I am nervous and excited. Mostly though, I am committed to ensuring that you continue to receive great care.
What is Menstrual Equity?
Menstrual Equity is affordable and safe access to menstrual products when and where they are needed. Without it, we sacrifice the health and dignity of people who menstruate.
Why we say People Who Menstruate and Menstruators
Changing The Flow recognizes that not all women menstruate, and that not everyone who menstruates is a woman.
We intentionally use inclusive language such as menstruators or people who menstruate to include girls, trans men, trans boys, non-binary, gender fluid, gender non-conforming individuals and all others who experience menstruation.
We welcome constructive feedback on how we can be better and do more to be inclusive. We encourage members of marginalized communities to call us in if we are not hitting the mark in our actions and our words.